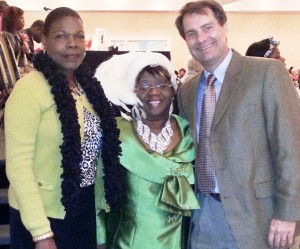 Attorney Wayne Hogan, and Terrell • Hogan paralegal, Senator Audrey Gibson, once again matched contributions to help support the Senior Life Foundation pre-Thanksgiving luncheon for seniors.
The annual event, hosted by Mrs. Joan Turner and held at the Wyndham Hotel, brings together more than 1500 seniors including those living independently, in nursing homes and convalescent centers or assisted living facilities. Uplifting and celebratory, the Senior Life Foundation showcases local talent and seniors in a festive outing that brings smiles to many faces.
"I am honored to be able to support this event annually, and marvel at the energy of Ms. Turner, who puts it all together," said attorney Hogan.
Many seniors in Florida and around the country live in or near poverty and often times lack a familial support system to meet their needs. In addition to the luncheon, the foundation, in partnership with Jacksonville Transit Authority, provides transportation to the event..
Senator Gibson said, "Joan has earned her angel wings many times over, and I am happy to be able to help in some way."
Attorney Mike Sharrit of Terrell • Hogan, and who is a candidate for Circuit Judge, represented Attorney Hogan who was traveling.