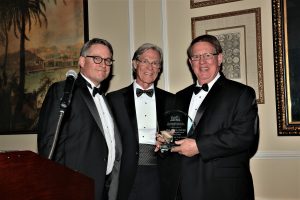 The Jacksonville Chapter of the American Board of Trial Advocates celebrated its 30th anniversary this month. Congratulations to this year's award recipients: Judge Peter Dearing, The Jurist of the Year; Robert Cole, Joseph P. Milton Civility Award; David Dunlap, President's Award and Curry Pajcic, Trial Lawyer of the Year.
I joined ABOTA in 1988 because I believe in everything it stands for — the preservation of the civil jury trial and maintaining and elevating the standards of integrity, honor and civility in the legal profession. Having been a founding member of the Jacksonville Chapter and also to have served on the National Board since 2000, I have seen how effectively ABOTA works as a national association of experienced trial lawyers and judges dedicated to the preservation and promotion of the civil jury trial right provided by the Seventh Amendment to the U.S. Constitution.
ABOTA maintains an even balance between civil plaintiffs' trial lawyers and civil defense trial lawyers. That balance enables ABOTA to provide valuable advice for trial court systems across America. There is more information at ABOTA.org.