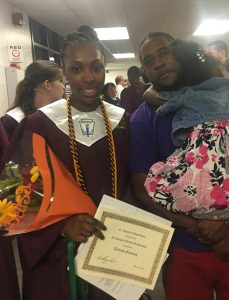 Taliyah Fleming was awarded the 2016 W. Douglas Hartley Scholarship by Pat Hogan at a special awards ceremony for St. Augustine High School seniors. Pat Hogan, a licensed mental health counselor said "having seen the devastating effect that untreated mental illness and substance abuse has had in our community, I congratulate Ms. Fleming's choice to become a clinical psychologist and advocate for those suffering from mental illness."
Ms. Fleming will attend The University of Central Florida this summer, where she'll pursue a degree in psychology. The scholarship provides up to four years of state university tuition and a stipend for books. Taliyah counts her father as a positive influence who always encourages her even when times are difficult.  He consistently encouraged her to never give up. Taliyah's favorite quote is from the great Winston Churchill "success is not final, failure is not fatal: it is the courage to continue that counts"
Fleming, an aspiring psychologist hopes one day to help those with mental illness have a brighter future. Wayne and Pat Hogan established the scholarship to honor the legacy of the late W. Douglas Hartley, St. Johns County's long-term superintendent who provided students with the best educational opportunities and made it his mission to know every student on a personal level. The W. Douglas Hartley Scholarship is awarded each year to a St. Augustine High School senior who has done well academically, demonstrates financial need and does not smoke or use tobacco products.
Congratulations to Taliyah Fleming.