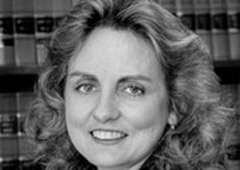 When it comes to driving, distraction has an opponent. And, she's trying to line up as many other opponents of Distracted Driving as she can.
In just the last few days, Leslie, a personal injury and wrongful death lawyer with Terrell • Hogan, has appeared on First Coast Connect on 89.9 WJCT hosted by Melissa Ross. She was joined by Joel Feldman, attorney and founder of The Casey Feldman Foundation. Mr. Feldman's daughter was tragically killed by negligence through distracted driving. To listen click here:  Distracted Driving First Coast Connect.
Leslie and Joel answered questions, including calls from listeners, about the efforts here and around the nation this April during National Distracted Driving Awareness month. The appearance was then the topic of Mr. Feldman's blog.
Karen Brune Mathis, editor of The Financial News & Daily Record also covered this important issue:  Five in Focus: Leslie Goller.

Leslie also got the word out by appearing on Roxie Tyler's public affairs show, Jacksonville Journal,  on WOKV Radio. She discussed the effort in Jacksonville to deal with Distracted Driving by educating students about its dangers, how to resist it and what to do to survive being in a car driven by a distracted driver.
Kudos to Leslie Goller for taking on the important task of helping save lives that might have been lost to Distracted Driving.