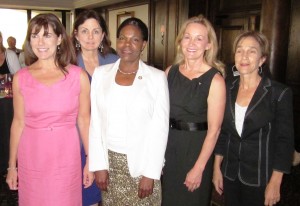 Leslie A. Goller, Anita Pryor, and Patty Dodson, Senator Audrey Gibson and Pat Hogan represented Wayne Hogan, a sponsor of Girls, Inc.'s 2012 Girls' Rights Week Reception, which honors local Women of Action and Girls of the Year in arts, academics, athletics, and activism.
2012 marks the 40th anniversary of Title IX. Title IX is a portion of the Education Amendments of 1972,and states (in part) that:
No person in the United States shall, on the basis of sex, be excluded from participation in, be denied the benefits of, or be subjected to discrimination under any education program or activity receiving Federal financial assistance… .
Title 20 U.S.C. Sections 1681-1688
It's a law that seems self-evident now, but in 1972 and for many years even after the implementing regulations were issued by the Department of Health, Education, and Welfare, it was considered controversial.
Since 1972 there has been a monumental increase in high school and NCAA female athletes. The American Association of University Women (AAUW)  reports statistics that are impressive: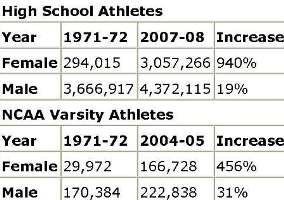 However, women athletes still have to fight for fairness which is why our firm took on and was successful against the Florida High School Athletic Association ("FHSAA") and its Policy 6, which cut funding to and competitive opportunities for all athletes in public high school sports except boys football and competitive cheerleading. Policy 6 was against everything Title IX is about.
Wayne Hogan and Leslie A. Goller successfully represented Florida parents acting on behalf of their athletic daughters, by filing suit in Federal Court and forcing the FHSAA to rescind Policy 6. Policy 6, the subject of the litigation, disparately treated girls and constituted sex discrimination in violation of (1) Title IX of the Education Amendments of 1972 (20 U.S.C. §1681 et seq.), (2) the Equal Protection Clause of the Fourteenth Amendment to the United States Constitution (as enforced through 42 U.S.C. §1983), and (3) the Florida Educational Equity Act (§1000.05, F.S.). It therefore violated federal constitutional and statutory law as well as state anti-discrimination laws, not to mention that it turned the clock back 40 years.
In 2010, Wayne Hogan and Leslie A. Goller were honored by Girls, Inc. for their pro bono legal work in stopping the FHSAA's violation of Title IX.